Do You Remember These 70s & 80s Discos, Boston NightClubs & Bars?  
Did  I Miss Any?  Tell me here … Please Help with locations, photos and details too.  Thanks!
70s / 80s Boston Discos, Greater Boston, New Hampshire, Worcester and Cape Cod Nightclubs
Please send photos or links to cover band/show band photos, old club photos, descriptions, club corrections and answers.
1270
9 Landsdowne Street
15 Landsdowne Street (Boston, MA)
910 Broadway (Saugus)
Ace of Clubs (Revere)
Andover Marriott
Aquarius
Alhambra's (Westport, MA)
Avalon (Part of a string of clubs dating back to the 70's)
Axis (Lansdowne Street, Boston)
B & B Discotheque (Revere, MA???)
Bahama Beach Club (Nashua NH)
Backside (Dedham)
Ball of Confusion??? (Rt. 114 Danvers, MA????)
Banyan Club (Ipswich, MA)
BBC Holiday Inn (Randolph)
Beachcomber (Quincy Shore Drive, Quincy, MA)
Beachcomber (Wellfleet, Cape Cod)
Beef and Oyster House (Salem, MA)
Bellbottoms (Was there more than one location?)
Billy's Dry Dock (Revere Beach)
Billy Wood's Wharf (New Bedford, MA)
Bleachers (Salem, MA)
Bogey's (Acushnet, MA)
Bomb Shelter (Cambridge, MA)
Brandy's (Brighton)
Bridgeside Restaurant & Nightclub (Salem, MA)
Boston Boston
Boston Tea Party
Brothers 4 (Nashua, NH)
Brothers 4 (Falmouth)
Buddies
Bunratty's
Cabaret After Dark (Predecessor to "15 Landsdowne Street", Boston)
Cache'
Cafe Felix
Carlton House (Quincy)
Celebration
Chameleon (Lynnway, Lynn, MA)
Chaps (Boston, MA)
Chauncy's (Dorchester Street, South Boston)
Chet's (Cambridge, MA)
Chatham's Upstairs (Faneuil Hall Boston)
Château Deville (All Locations)
Chevy's (Quincy)
Choices Bar (Somerville)
Circus Circus (Saugus)
City Club (Formerly Metro then became Axis)
Clarke's (Faneuil Hall Boston)
Club III (Somerville)
Club 114 (Rt. 114, Peabody/Danvers Line)
Club Caravan (Revere)
Club California (Quincy)
Club 93 (Woburn)
Club 2001 (Manchester)
Club Max – Formerly the Playboy Club (Park Square, Boston MA)
Club Morgan (Lynn)
Club Surrender (Waltham)
Club Vogue (Nantasket Beach, Hull 1987)
Club Soda
Coach and Six (Peabody)
Compass Lounge (Yarmouth, Cape Cod)
Coral Gables (Weymouth)
Crown and Anchor (Provincetown, Cape Cod)
Cyranos
Dance Factory (Boston)
Darts
Deco's (Somerville, MA)
Destinations
Diamonds (Burlington Marriott)
Dick Doherty's Crystal Palace (Hyannis, Cape Cod)
Dimples (Randolph & Peabody)
Down Under (Bowdoin Square, Boston MA)
Dominic's (Cambridge)
Duca's (Framingham)
Déjà Vu (Lynn)
DV8
El Sids (Somerville)
El Torito's (All Locations)
Empire Room (Cambridge)
Escapades (Weymouth)
Estelle's
Facades (Broadway Revere)
Faces (Cambridge)
Fathers II
Flappers (Cambridge)
Flicks (Boston)
Flying Machine (Holiday Inn, Boston)
Four Seasons (Falmouth, Cape Cod)
Frank's (Brockton)
Fran's Place (Lynn MA)
Fred P. Otts
Future (Commonwealth Av. Boston)
Gatsby's (Boston, MA)
Giovanni's (Hampton Beach NH)
Gladstone's (Commonwealth Avenue, Boston, MA)
Green Apple (Peabody?)
Great Escape (Weymouth)
Great Scott
Green House (99 Restaurant Billerica MA)
Grover's (Beverly, MA)
Harbor House (Lynn)
Harper's Ferry
Haymarket
Heartache (Commonwealth Av., Allston, MA)
Hillbilly Ranch
Holiday Inn (Woburn, MA)
Holiday Inn (Brockton, MA)
Horoscope
Houlihan's (Boston)
Howard Johnsons (Cambridge)
Hunt Club (Falmouth)
Industry (Manchester, NH)
Inn-Square Men's Bar /  Inman Square Men's Bar (Cambridge, MA)
Inn at Duck Creek (Wellfleet Cape Cod)
International Pub (Revere)
Jacqueline's (Danvers)
Jacques (Boston)
Jacobs Ladder (Revere, MA)
Jason's (Boston)
Jaspers
Jazz Workshop (Boston)
Juke Box (Boston)
Juliet's (Woburn, MA)
John Martins Manor / Nite Shoes (Saugus)
Jonathan's (Beef & Oyster, Salem)
Jonathan Swifts (Cambridge, MA)
Joseph's Lounge (Lowell, MA)
Kaleidoscope Disco
Kazbar in (Yarmouth – Cape Cod)
Kenmore Club
Kennedy's (Hampton Beach)
Ken's Pub (Brighton)
Kimmie's (Cambridge)
Kings Row – Near Fenway Park
Kix (Boston)
KKK Katy's (Boston)
Lantern Lodge (Attleboro)
Last Chance Disco (Framingham)
Limelight (Saugus)
Lipstick
Little Earls (Gloucester, MA)
Living Room (Revere)
Lucifer's (Kenmore Square Boston)
Lucy in the Sky With Diamonds (Brighton)
Mad Hatter (Necco St., Boston)
Magoo's
Manor IV (Nashua NH)

Manray (Central Square, Cambridge, MA

Maryanne's
Maxwell's (on Dartmouth Street)
Max on the Waterfront
Metro (Boston, MA)
Metro (Worcester, MA)
Metropolis
Monticello (Route 9, Framingham MA)
Mill Hill Club (Yarmouth, Cape Cod)
Mirage
Misty's (Howard Johnson's Revere)
Molly's
Napoleon's (Boston)
Narcissus (Kenmore Square)
Natalie's (Commonwealth Av., Allston, MA)
New York City Juke Box
New York New York (Peabody, MA)
Night Shoes (Saugus, MA)
Nightstage (Cambridge, MA)
Nine Landsdowne (Boston)
North Meadow Tennis Club
Olivers (Boston, MA – Currently Cask & Flagon)
One City Hall Plaza (Boston)
One Newbury Street (Peabody)
On The Rocks (Mashpee, Cape Cod)
Ovations
Oxford Ale House (Harvard Square, Cambridge MA)
Palladium (Worcester)
Pappillon Nightclub (Downstairs at the Back Bay Hilton, Boston)
Paradise
Paula's Disco (Rt. 114 Danvers MA)
Paul's Mall (Boston, MA)
Paza Luna (Route One Saugus, MA)
Peabody Marriott
People's Disco (West Bridgewater)
Piggy's (Provincetown, Cape Cod)
Pipeline (Landsdowne Street Boston, MA – 1982)
Plums
Polyesters (Boston, MA)
Poohs Pub
Powder Mill (Maynard)
Pufferbellies (Cape Cod)
Rainbow Room (Landsdowne Street Boston, MA)
Ramrod
Randolph Country Club
Rascals (Cape Cod)
Red Fox (Rockland)
Reflections (Cambridge)
Rhinoceros (Boston)
Rockefellas (Lynnway, Lynn, MA)
Sadie's (Now Lombardo's)
Sammy White's (Brighton)
Sammy's Patio (Revere Beach)
Sanctuary (Now Vincent's Nightclub, Randolph, MA)
Satch's (Boston)
Scandals (Holiday Inn East Boston)
Scandals, Ramada Inn (Woburn)
Scotch and Sirloin (Boston, North End)
Shenanigan's (Canton)
Showboat?? (Holiday Inn Somerville)
Sir Morgan's Cove (Worcester, MA)
Smuggler's Den (New Bedford, MA)
Sneakers (Salem MA)
Sonny's (Falmouth)
Spinoffs Roller Disco (Landsdowne Street)
Sporters
Spit
Stadium (Framingham, MA)
Stage Door Disco
Steve's Place
Stocks and Bonds (Boston)
Street Lights (South Boston)
Studio 4 (Lynn, MA – Currently the Porthole Pub)
Styx (Boston)
Sultan's Tent (Boston)
Sundancers (West Dennis,Cape Cod)
Surrey Room (Somerville)
Swinger's 2 (Route 9, Framingham MA)
Tia's (Waterfront Boston at the Marriot)
Tender Trap (Hingham)
The Approach (Bourne, Cape Cod)
The Ark
The Balcony (Peabody, MA)
The Boston Club
The Bounty (Holiday Inn Nashua)
The Bridgeway (Plymouth)
The Bull and Finch (Boston, MA)
The Casino (Falmouth, Cape Cod)
The Channel
The Commons (Copley Place, Boston)
The Fan Club
The Fish House (Newton, MA)
The Flying Bridge (Falmouth, Cape Cod)
The Garage (Commonwealth Av., Boston)
The Great Escape (Weymouth, MA)
The Harbor Club
The Jumbo Lounge
The Landing (Hyannis, MA)
The Lighthouse (Revere Beach)
The Lions Den
The Loft
The Main Act (Harbor House, Lynn, MA)
The Mooring (Hyannis, MA)
The Modern
The Old Forge (Easton)
The Other Side (Boston)
The Palace (Saugus)
The Pickle Barrel(Easton)
The Pier (Boston)
The Playroom (Saugus)
The Pipeline (Boston)
The Quarter Deck
The Rathskeller "The Ratt"
The Roxy
The Rusty Nail (Sunderland, MA)
The Shaboo (Wilamantic CT)
The Speakeasy (Central Square Cambridge MA)
The Sugar Shack (Boylston Street, Boston)
The Summit Club (Peabody, MA)
The Surf Nantasket (Hull)
The Thunderbird Club
The Vineyard (Now Vincent's)
Timothy's (Framingham)
Timothy's Too (Framingham)
Tingles (Hyannis – Cape Cod)
Twist (Falmouth, MA)
Together
Tony C's (Named after Tony Conigliaro, Nahant, MA)
Town Line (Malden, MA)
Ultimate (Danvers)
Uncle Sam's (Hull)
Up and Up (Kenmore Square)
Vamps
Velvet Hammer (Hyannis, MA)
Venus De Milo
Victors (Revere Beach)
Vincent's (Randolph)
Vogue (Saugus, MA)
Webb Brook (Billerica, MA)
Westgate Lounge (Brockton)
Wheels Plus Roller Disco
Whimsy's
Who's on First
Yesterdays (Boston)
Yesterdays (Saugus)
Zacks (Falmouth)
Zanzibar (Boston)
Zelda's
Any 70's 80's Nightclub, Disco Bar Photos of ANY TYPE, Content or Theme MUCH APPRECIATED!!!
Did the Pier in Boston become Polyesters?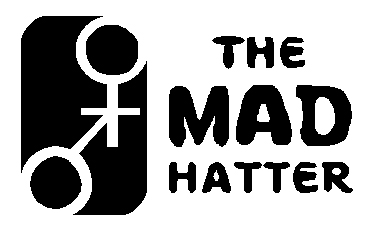 Mad Hatter Logo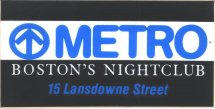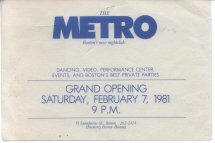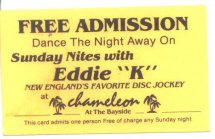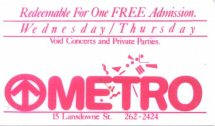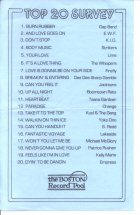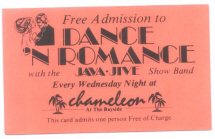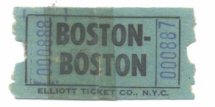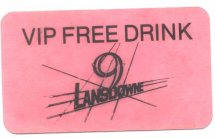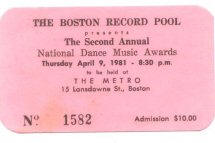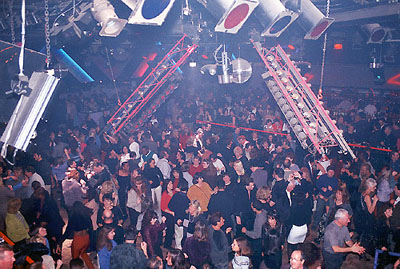 Vincent's Nightclub Randolph, Massachusetts